Trajans Victoria
Gabriel Dietl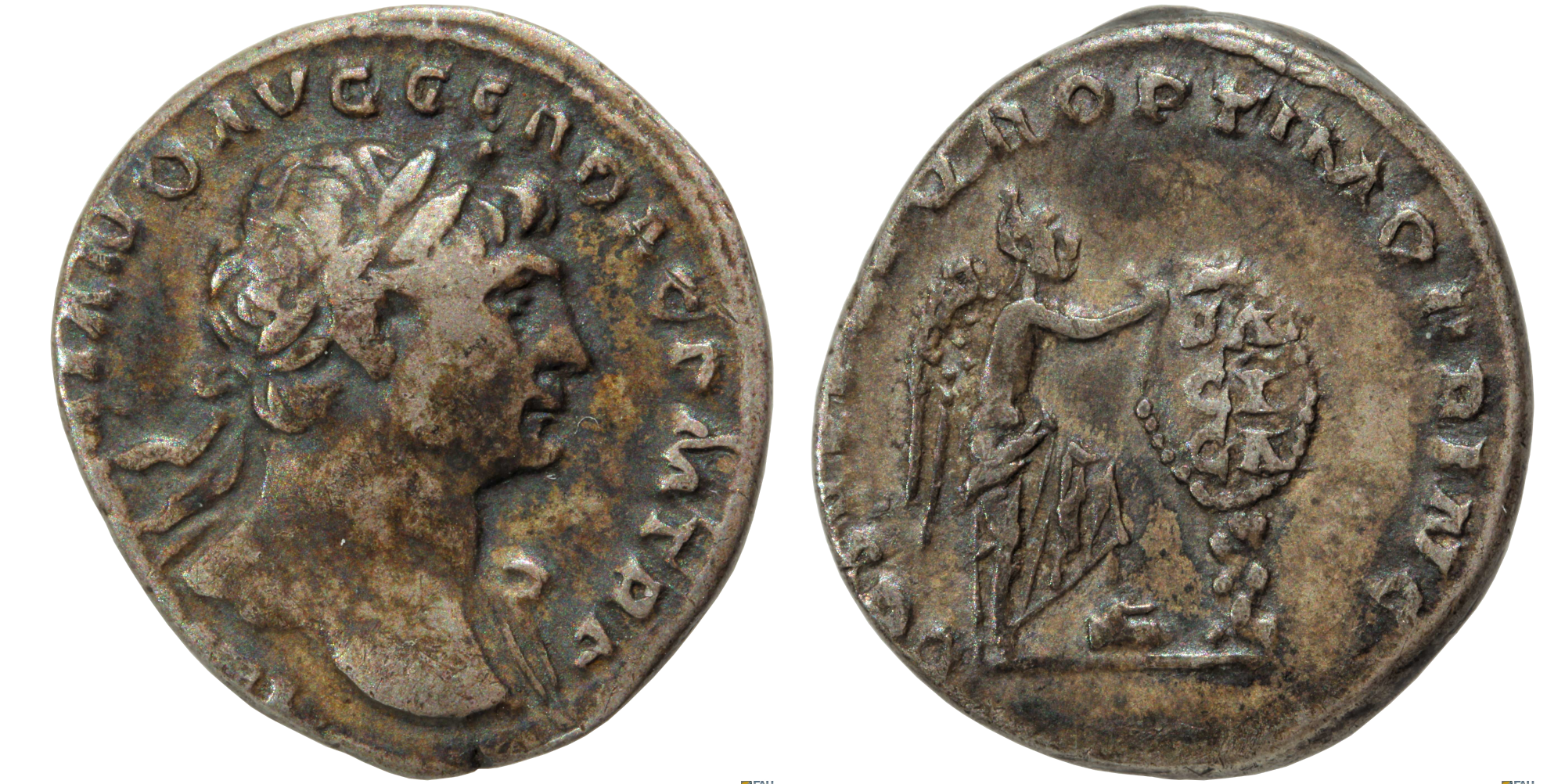 Obverse legend: I[MP(eratori) TR]AIANO AVG(usto) GER(manico) DAC(ico) P(ontifici) M(aximo) TR(ibunicia) P(otestate)
Reverse legend: CO(n)S(uli) V [P(atri) P(atriae) S(enatus) P(opulus)]Q(ue) R(omanum) OPTIMO PRINC(ici)
Date: AD 103–111
Metal: Silver
Denomination: Denarius
Weight: 3.3g
Size: 13mm
Antikensammlung FAU Erlangen-Nürnberg H 362
RIC II Trajan 253 (no. 130)
Das Römische Reich erstreckte sich im Jahre 117 n. Chr. weiter als jemals zuvor oder danach. Von Britannien bis zur nordafrikanischen Küste, vom heutigen Portugal bis Syrien war alles unter der Herrschaft Kaiser Trajans vereint, der von 98 bis 117 n. Chr. regierte.
Auf der Rückseite der Münze schreibt Victoria, die geflügelte Göttin des Sieges, "DA-CI-CA" auf einen Schild. Dies ist die Abkürzung für "Victoria Dacica" – "Sieg über die Daker", die im heutigen Rumänien siedelten und gegen die Trajan zwei Kriege führte, und zwar 101/102 und 105/106 n. Chr.
Fast bis ins Detail gleicht dieser Münze eine Darstellung der Victoria auf der Trajanssäule, einem Monument im Herzen Roms, dessen Bilder die Ereignisse der Dakerkriege schildern. Auch hier beschreibt Victoria einen Schild und dokumentiert so den Sieg des Kaisers.
Dieses Bildmotiv war als Chiffre für kaiserliche Sieghaftigkeit in der Römischen Kaiserzeit weit verbreitet. Die Münze wirbt also nicht nur für den Kaiser als erfolgreichen Feldherrn, sondern als einen Herrscher, der mit göttlichem Beistand das Wohlergehen Roms und dessen Sieg über alle Völker garantiert.
公元117年,罗马帝国的扩张规模空间绝后。从英伦到北非沿岸,从今天的葡萄牙到叙利亚,在图拉真皇帝统治下实现了罗马帝国的大一统,他在位的时间为公元98年到117年。
在钱币的背面描绘的是长有双翼的"胜利女神"维多利亚正向一块盾牌书写"DA-CI-CA"的场景。这些字母是"Victoria Dacica"的缩写,意为"对达契亚人的胜利"。达契亚人生活在即今天罗马尼亚境内,对图拉真发动了两次战争,一次在公元101至102年间,一次在105至106年间。
这枚钱币上的胜利女神与图拉真功绩柱上描绘的维多利亚女神像几乎一模一样。图拉真功绩柱高耸在罗马城中央,上面的浮雕刻画着图拉真皇帝在达契亚战争中的立下的丰功伟绩。维多利亚也用同样的方式在盾牌上书写和铭记罗马皇帝的伟大胜利。
这一素材成了罗马皇帝屡战屡胜的代名词,在罗马帝国时期得到广泛传播。这枚钱币上所描绘的皇帝不仅是一名出色的将领,更是一名当之无愧的统治者,在神的庇佑下,守护着罗马的安宁,在一切同外族的战争中无往不胜。
In the year AD 117, the Roman Empire reached its farthest expansion. From Britain to the northern African coast, from modern Portugal to Syria: everything was united under the reign of emperor Trajan who ruled from AD 98 to 117.
Victoria, the winged goddess of victory, writes "DA-CI-CA" on a shield: "Dacian victory". The Dacians dwelled in the Carpathian Mountains in the area of modern Romania and were fighting in two wars against Emperor Trajan, AD 101/102 and 105/106, before he established the province Dacia.
A depiction of Victoria on the column of Trajan closely resembles the coin. This monument was erected in the heart of Rome and celebrated Trajan's victories in Dacia in a long, spiral panel.
Victoria writing a victory over foreign people on a shield was a common motif in the Roman Empire, since it linked military success with divine support. Thus, the coin does not only promote Trajan as the ideal military commander,
but as an emperor who guarantees the welfare and victory of Rome with the help of the gods.